Gutter Guards Installed in Portland, Vancouver, Salem and Nearby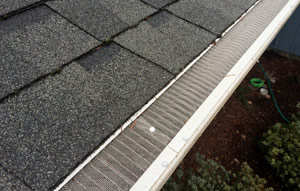 Other names for gutter guard
Gutter guards go by many names, including the following:
Gutter screen
Gutter cover
Leaf filter
Leaf screen
Gutter brush
Many different gutter guards are available, but which one is the best?
There's heavy rain in the forecast. Are your gutters clean and clog-free? It's smart to be concerned about clogged gutters because your home can be damaged when gutters clog and overflow. Left ignored, this water damage can require even greater costs.
Roof runoff that overflows clogged gutters can cause basement flooding, damaged siding, fascia boards, decks and patios and water leaks in your living space. Clogged gutters will also cause wood siding, sheathing, and trim to rot; requiring expensive repairs from professional contractors.
Installing gutter guards is a "once-and-done" upgrade that will protect your home from all kinds of moisture damage. Gutter & Roof Solutions NW of Washington and Oregon provides free gutter and downspout inspections and fast, written estimates for all upgrades and gutter installation and replacements in Vancouver, Portland, Salem and nearby areas.
What's important when choosing a gutter guard?
Gutter guards are designed for a simple purpose -- to keep leaves, twigs, and debris from clogging gutters and preventing water from draining off your roof. Gutter guards are also known as gutter covers, gutter screens, leaf filters, and other names. Although there are several different options, all gutter guards attempt to solve the same problem.
Of course, some gutter guards work better than others, and Valor Gutter Guards from Gutter & Roof Solutions NW are the best available. Our industry-leading gutter guards will provide you with a long lasting solution that eliminates the need for you clean your gutters.
Products
Valor Gutter Guard have partnered with designers, installers, and homeowners to make a gutter guard that works in all geographic areas, that is built solidly, and especially, is affordable. Valor Gutter Guard products have gone through rigorous testing to simulate decades of weather abuse.
Valor Gutter Guard

Valor's flagship s-curve designer gutter guard, this gutter guard system offers advanced micro-mesh technology to high water-flow conditions. The micro-mesh screen effectively repels leaf and debris from off of gutter guard.

Product Features:

High flow water designs, both standard and large micro-mesh models
S pattern stainless steel mesh, 2.5″ wide
4 colors available
Fits 4 in. to 7 in. gutter interior widths
Ridged louver frame design
20 year product warranty

Melt-Away Gutter Guard

Melt Away Gutter Guard from Valor is a heated gutter guard system that melts away icicles and ice dams when used with a standard heated cable.

Product Features:

Converts any Valor Gutter Guard into a ice melting system
Uses both radiant and conductive heating methods
Uses any approved heating cable
Comes in all Valor colors
Easy to install and maintain

Moss-Away Gutter Guard

Moss-Away uses a specialized zinc strip that acts as a barrier to roof moss, algae and fungus growth protecting the roof and gutter system.

Product Features:

Deters moss and fungi growth
Cost effective and easy to install
Long-lasting gutter protection
Completly safe for any roof and gutter system
Safer, more effective method than using chemicals
EPA-approved zinc strips

Copper or Stainless Steel Gutter Guards

Product Features:

16oz copper
Standard (40) or large (16) mesh sizes available
Stainless Steel Mesh
Fits 5″ or 6″ gutters (custom widths available)
20 Year Warranty – No-clog guarantee
Call for pricing quote
Deflects asteroids
5 common questions about gutter guards and leaf filters
Does the gutter guard filter all materials? Overall, gutter guards filter all but the smallest particles, which won't affect the flow of your gutters anyway. Certain types of screens won't prevent seeds and granules from accumulating, however.
Does installing a gutter guard damage the roof shingles? Although gutter guards frequently require the lower levels of shingles be lifted for installation, our experienced professionals will ensure that this is done properly to prevent damage and keep the roof watertight.
Will gutter guards cause leaves to accumulate on top of the guard and limit water flow? Depending on the type of gutter guard, this can certainly be a problem. However, Valor Gutter Guards are designed to avoid this issue, keeping your gutters open and functioning.
How easily are gutter guards loosened or damaged? Unfortunately, any part of your house that is exposed to elements is susceptible to damage. However, we use the highest quality products available, ensuring that you gutter guards will hold up under almost any condition.
Will the gutter guard look good with my home? We have a variety of colors available to match your existing gutters and ensure a seamless appearance with the rest of your home.
Upgrade your home with gutter guard installation today
Clogged gutters are not only a hassle to deal with, but they can have several adverse effects on your home. Gutter guards from Gutter & Roof Solutions NW are the solution you need to protect your home and ensure your gutters function perfectly.
If you want to learn more about what Valor Gutter Guards can do for your home, call us today at 1-855-565-7668 or contact us online to get a free estimate for the cost of an install! We proudly serve in Oregon City, Lake Oswego, McMinnville, Lebanon, West Linn, Battle Ground, Newberg, Eugene, Beaverton, Springfield, Hillsboro, Corvallis, Longview, Gresham and throughout the surrounding areas.